CHARLOTTE IS DONE!!!!!

Sorry for a slow post week but my priorities have been on finishing my shawl and fighting off some bad sinuses.
Thursday night I met up with some team Tennessee members during the S*n*B meetup at
Davis Kidd
. My sinuses were really getting to me and judging by the mistakes I found Friday, I had been knitting by the force. I made hubby take me to Starbuck's Friday for my favorite venti caramel frappucino affogato style with whip and that pumped me up. I took a break Saturday for our monthly massage date, church and dinner out at O'Charley's. He helped me block her last night and we finished at 12:21 AM CT, so roughly 9 1/2 hours to spare. She is completely dry this morning and beautiful. I will have pics later this week! I'll give specifics when I put up the pics.
In the midst of this I received my second package from my Secret Pal

. I got me some good stuff!! My love of 80's music has been suitably indulged with CD's from Duran Duran, Eurythmics, and INXS. I also have a new sock pattern, Ann Norling's Adult Socks II and some great
Knit Picks essential sock yarn
in pine and navy. The kitty sticky notes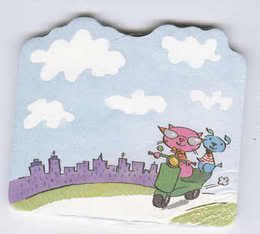 are just adorable. Are the knitting markers made by you SP??
I'll have more on my next projects and sockapalooza tomorrow or Tuesday.