Well, I have been very neglectful of my HSKS 1 partner. I realized that I never posted a picture of her gifties to me.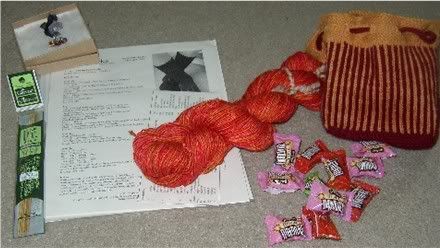 The sock pattern is from Knit Picks and I don't have it yet so it's most welcome. The bag is a design of my partner, Bronwyn. Click on
Knitted Dice Bag
for a free pattern. She made mine from Knit Picks Merino Style. It is divine. The girls keep trying to "borrow" it. Strngely enough, she will also be gifting me for HSKS2. I can't wait to see what I get!
I recently finished the bag for my HSKS2 partner.
I used the Cinnamon Braid Sling Bag from Cat Bordhi's, "Second Treasury of Magical Knitting." This was my first successful mobius project. My first, a novelty scarf, is, no joke, about 8 feet long!
I used Nature Spun Worsted and now my youngest wants one in Ravenclaw colors by the Book premiere next week. I still have to finish a baby blanket by then.
TTFN!!