Happy Mothers Day to all!! I got breakfast in bed, French Toast and turkey bacon, YUMMY!!! My mom flew in from Boston yesterday. She'll be here until a week from Tuesday. We are going out to dinner tonight to
Amerigo's
and then coming home and watching the final episode of West Wing. I'm so bummed over that. My in laws are arriving on Tuesday because Thursday is my oldest daughter's confirmation. So dear 5 readers, (and SP-you make my 6th!!), I may be out of touch until the 23rd or 24th. I've also started a part time job at
Imagine This Sold
,a service where you can bring in items to be sold on eBay. So I am a busy beaver these days.
Knitting
The baby blanket is making great progress. I'm about 2/3rds done, about 18 inches completed and I've reversed the pattern

.
Look I finally have pictures of other projects!! Here are a few shots of the baby kimono from
Mason-Dixon Knitting: The Curious Knitters' Guide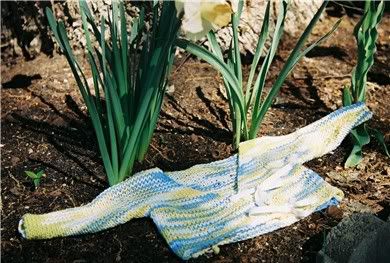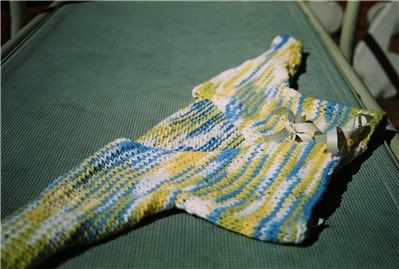 This was done in
Lily Sugar 'n Cream Cool Breeze Ombre
I highly recommend this project for a quick and easy baby gift. I also made
Bev's Stay On Knit Booties - newborn sized
in
Dale of Norway Baby Ull #8523
,a leaf green shade.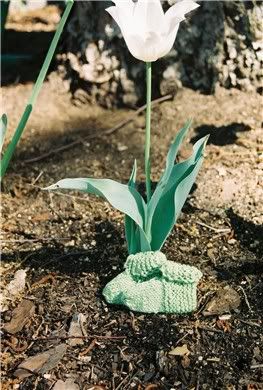 And lastly for this baby gift I made a hat of my own pattern. Using the same yarn from the booties, I used guidelines from
The Knitter's Handy Book of Patterns
. I cast on 54 stitches for a newborn size hat, K2P2 rib for about 1 inch and then used the seaweed pattern from
Barbara Walker's A Second Treasury of Knitting Patterns
I repeated the pattern 3 times, used the decrease recommended by Handy Book of Patterns and added a tassel. Not bad for first pattern, right??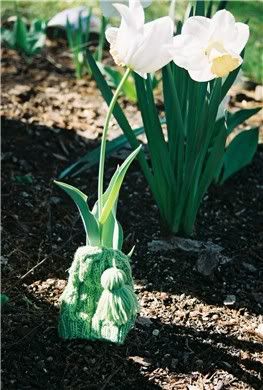 Next post I'll have pics from the latest intarsia slippers and update the garden status after the Memphis floodwaters recede!!