This July was a great month, busy and hectic but overall wonderful. We started off in Atlanta visiting the Woods Family. The next week was filled with appointments but the premiere of Harry Potter and the Order of the Phoenix (which I loved!). The next eldest went off to the Diocesan leadership camp and the youngest had soccer camp, which was followed up by the distribution of Harry Potter and the Deathly Hallows...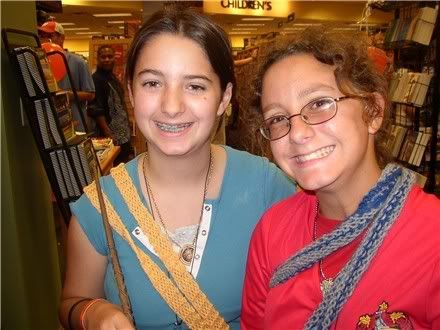 which was followed up the next day with a trip to Florida to visit the Cronins and a stay at hubby's family's house in St. Petersburg Beach. This is the view from the pool deck...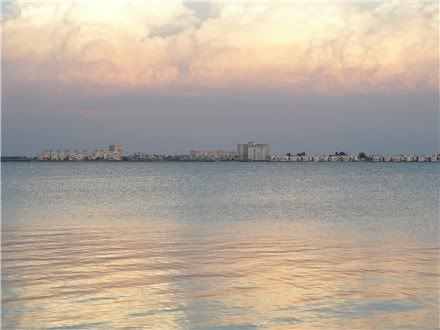 , which was right outside the living room. A great month!
I got LOTS of knitting done! I finally finished that Ruffles scarf that has been on the needles for 2 years!
I polished off 2 dishcloths, a
Spinning Wheel Dishcloth
for Michelle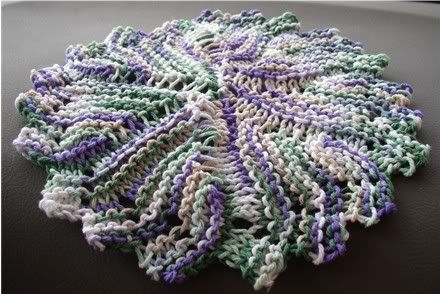 and a
Honeycomb dishcloth
for the Florida house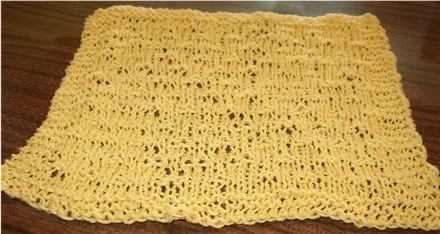 . I made another mobius purse in Ravenclaw colors for my youngest.
I also made a
Sophie Bag
for myself from some lovely turquoise Brown Sheep Bulky.
I got lucky enough to have
Bronwyn
as my partner for the second Hogwarts Sock Kit Swap...
. She really indulged me this time. Not one but TWO skeins of Socks that Rock in Mustang Sally and 24 Karat. There were 2 sets of choclate frogs but one was gobbled pretty quickly. I love the sock patterns but I am especially happy about Cookie A's Twisted Flower pattern that I have been eyeing for months! The bag is really cute and so perfect for fall. Thanks so much Bronwyn or cimorenegal as she is known on Ravelry!