Well the hubby's been gone all week on a business trip to Japan. I was really tempted to make him find me some
Noro
but I felt a bit guilty since I knew my Knitpicks order was coming in this week plus, darling that he is, he's rather clueless and not inspired in the fiber department
See what I mean? This is us when we started dating so I had no wardrobe input and believe me, after being together for over 18 years, his independent thought process on fiber has not changed. Why they don't make garanimals for men is beyond me. So if you think I'm going to let this misguided but well meaning man independently pick out yarn for me in a foreign country, well that proves you are crazier than me. BTW the US Navy and I dress him now,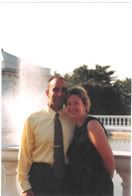 see, much better.
Speaking of truly horrid knitwear. I came across
this
today. Gotta see
this one
. That is one angry cat!! I surprised there's not blood dripping off the picture from being mauled by the cat. The site is hilarious.
The jaywalking sock is moving along.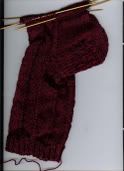 I scanned it in so it's not great but you can see I'm almost up to toe decreases on Sock #1.
Forgot to mention why I wanted Noro. I've become obsessed with
booga bags
. I knit one up right before Christmas.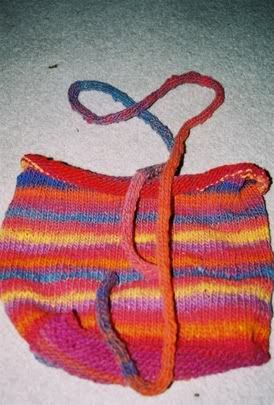 This is pre felted.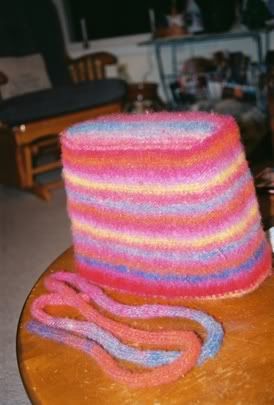 In the process of felting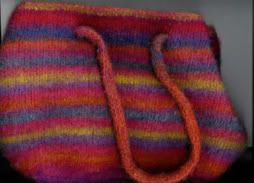 and this is the finished product. So now of course, I want to knit many more!!
As you can see, I've done some redecorating around here. Doing Secret Pal 7 has encouraged me to learn more about blogging and I've been looking at what others put in their blogs. So I'm in the trial stages right now. It's a bit cluttered and will probably stay that way until I decide what I like and don't like. My friends think it kind of resembles my house: lots of nifty stuff, some organization, and some of it has to go.
So here's my newest poll...
Socks:DPN or Circs
Let me know your thoughts. I've only done DPNs (Double Pointed needles and never tried circulars, or circs.
On a last note...I have been having issues learning to scan and post up pictures in a correct size so have patience if they are too big or too small. The learning curve is improving! Good Weekend all!!