Do you want the good news or the bad news??
The bad news....in order to dye with woad, you need about 1/2 a pound of leaves or 32 ounces. How much did I have? 2 ounces

, obviously not even close enough. But all is not lost, I had ordered a pile of dye-your-own yarn from Knitpicks in lace/sock weight and worsted weight.
Once I pried Zoe off of the yarn, the girls and I did some dyeing with Wilton's frosting dyes and Kool Aid but more on that later,
The good news...In the space of 4 days, I received packages from my August Birthday Pal,
Eva
, and my SP8 pal (Ok who are you, I am clueless!!). Here's my birthday pal package...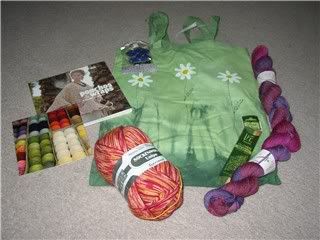 Dontcha just love Lorna's Laces sock yarn? Those delicious skeins on the right are Valentine. Eva lives in Slovakia and that reddish skein is Sockenwolle Unipo which is made where she lives. More sock needles are always welcome since I leave a trail of them everywhere.
Poncho's and Wraps: A Knitter's Dozen
has been on my Amazon wishlist for a while so now that's taken care of! The green floral tote is just darling! Ironically the card comes from Ikea. I sent my August birthday pal a set of floral boxes from Ikea! And I love the little lady ornament. Thanks again birthday pal!
My sp8 pal also sent an awesome package. Look how beautiful everything was wrapped...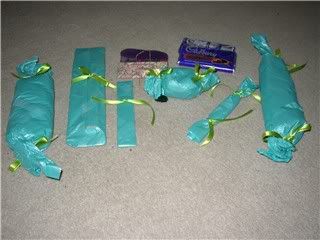 and here's the loot...
. As Jenny says to Clare in Dragonfly in Amber, un embarrasement de richesse!! More Lorna's!!! 2 skeins each of Sand Ridge in Lion and Lamb (Which I am LOVING in my clapotis!!!)and a teal and cream blend in shepherd sock!! I've been lusting after some light-up needles and my SP8 pal provides with a set of Knit Lite #8's, a great new way to embarrass my family! She probably doesn't know it but the I heart NY mug is great for my hubby since he's from Long Island (Bellport). I love the pen, my girls are NOT appropriating it! The zephyr stitch markers are, to quote my knitting friend, Mary, just great knitting jewelry. Ummm, the chocolate is almost 1/2 gone, how shocking after the crushing woad disappointment. And finally, more needles, are always welcome so I can keep knitting along and leave my trail! SP8

In knitting news... I made a blue and white ball band dishcloth
from
Mason-Dixon Knitting
(It's turning out to be one of my favorite books) and I also tested the felted boxes
as a possibility for Christmas presents. That's the box in it's prefelted state. I used some leftover Noro Kureyon doubled and some leftover red Brown Sheep Bulky also doubled. The Noro was thinner than the Brown Sheep, not surprisingly so I'll be curious to see how they felt out.
Well I still have a lot to tell about my dyeing and the
holiday grand plan
but I'll wait on those for a post later this week. Don't forget to bid on my
lot of Lion Brand- 34 skeins
!! TTFN!