THUD!!!

That is the sound of Tanya, Patty and Mary hitting the ground in amazement at my actual update AND 2007 progress. I've started school and I am busier than I thought I would be, really no surprise. The Developmental Math (Algebra II) is going much better than I had feared, I think I'm actually understanding it this time. The English Composition class is interesting. The online Physical Science class is challenging, not because it is online, just that it's a LOT of work. I'm hoping now that I've adjusted to all of this, that I'll start making at least weekly updates to this thing.
Well looking at my progress, 2006 was a very good year. I only have 3 UFOs hanging out- the ripple scarf thingy, the crayon box jacket and the failed Jaywalker socks. I do actually work on the scarf but because it is short rows, I feel like I NEVER make any progress on the damn thing.
I've already finished,
My Constant Companion
in Noro Kureyon # 95 for the main and Noro Kureyon # 88 for the contrasting outer pocket and handles. I also added 3 inner pockets.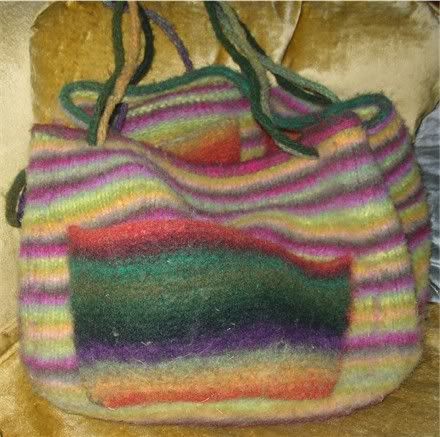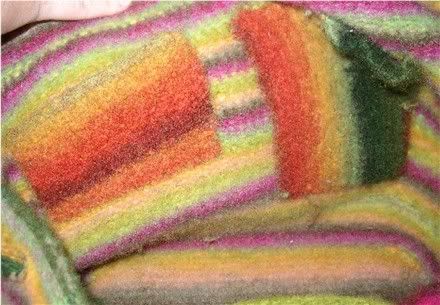 I am so loving this bag that I am using it for a purse. If I had any sewing skills, I would add a snap closure. Hey Patty, is Noro cheap in Japan??

I have finally finished up my sister in law's 2nd sock for Christmas. I got one done, sent it to her so she could see and then she sent it back so I could match it up. It's the Tiger Eyes pattern from
Socks, Socks, Socks.
. I used another pattern from that book for the Sockapalooza last winter.
This is a good shot of the leg with a lace mock cable-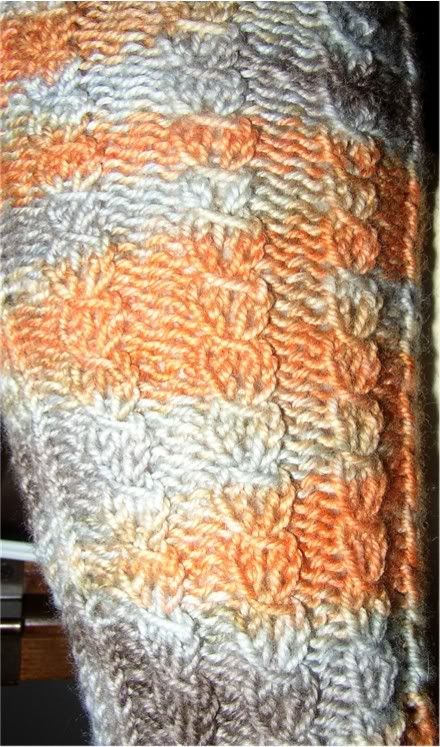 From a rather large Knitpicks order last fall, I pulled out the pattern for their Bella Scarf (the pattern is not on their website anymore, hmmmm) and finished it in the
Suri Dream Twilight
...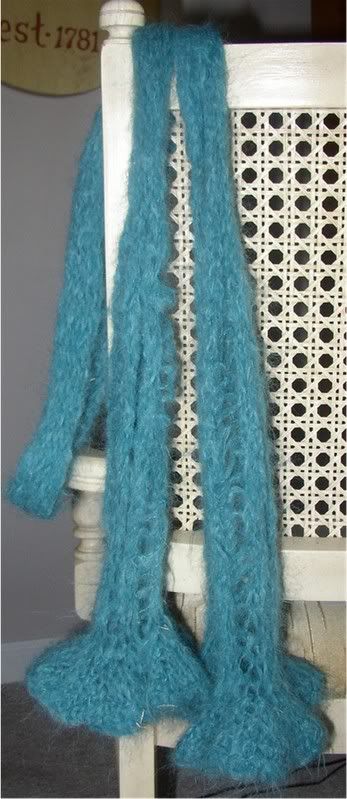 I made my oldest
Calorimetry
for a ski trip. The pattern calls for casting on 120 stitches. With that and the repeats, it is even too big for me...
so it has been sent on to my sister in law (the one to whom I owe socks) since she lives in Maine and has gorgeous thick dark hair and therefor a chance of this fitting her. BTW I used Karabella Aurora 8, color #1547. I have cast on another but this time only using 80 stitches, so hopefully it will be wearable by someone in this house!
I also joined the
Yahoo Monthly Dishcloths
group since these are easy and small to bring along to knit between my classes. Here's January's Three Cable Cloth...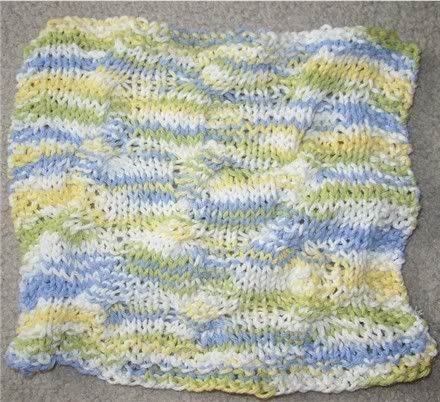 done in some ombre of Peaches N Cream cotton.
Finally I did my first charity knitting project. I completed a scarf for
Red Scarf Project 2007
. I made it out of Red Heart since I wanted it to be care free for washing, even though I am one heck of a yarn snob! The pattern was unisex, I thought, done in Moss Stitch...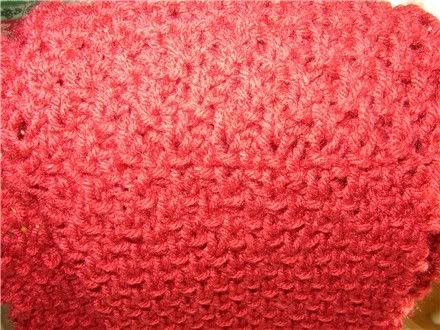 Here's one with cat for scale...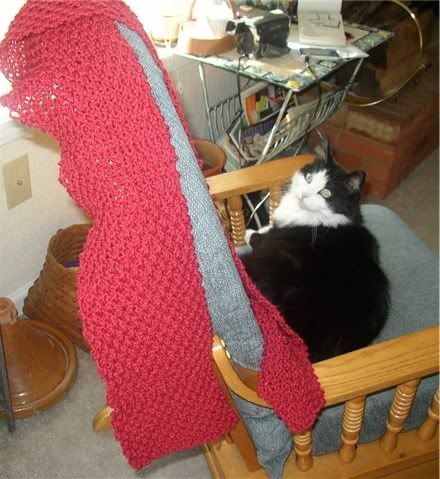 One last picture is from Kris. I stupidly forgot to take any pics of my Christmas gift knitting but one of the Woods' cats, Tuffy, posed nicely in one of the felted boxes I made...
OTN...
Well I have a few projects going...
I'm trying out a Euroflax linen wash cloth from Mason Dixon
I have about 4 out of 12 repeats done.
I'm making some fingerless gloves (uses up some sock yarn), the other caliometry, and I'll probably cast on for KnitPicks Candleflame shawl soon. Here's a list of planned projects to keep me going through my stash of epic proportions...
-Amanda-
Waterbottle Sling
-Katie-
Waterbottle Sling
-Shawls-
Candle Flame Shawl
Adamas Shawl
Faroese Peaks Shawl
Rowan #34- Birch Pattern
-Home-
Linen Washcloths
Log Cabin Throw
Entwined Squares Table Runner-Creative Knitting 1/2005 -DK Cotton 1400 yards
Place Mat Set-Creative Knitting 1/2005-worsted weight cotton 1200 yards
-Scarves-
Bella--1 for Jenny
Diagonal Scarf-Morehouse Farms Merino Knits-Koigu
Leaf Cravat-Interweave Winter02/03- LouetSalesGemsMerino Sport 1 Skein
-Socks/Feet-
Felt Clogs
-Hats-
76 Stitches Hat in Manos
Aran Tam- One Skein Wonders
-Bags-
Booga Bag
Buttonhole Bag
-Mittens/Gloves-
Hip Winter Warmers-Gauntlets-Creative Knitting 1/06- WorstedWeight-Plain &Variegated 210 yards total
So the epic post comes to an end...until next week TTFN!!